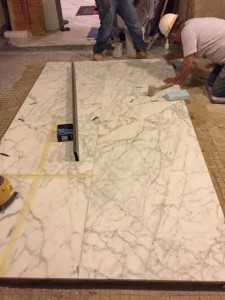 To the right is a photo of Petrillo Stone Corp.'s interior marble setters installing Calacatta Vagli Marble for the lobby at 90 Park Avenue. The marble was quarried and fabricated in Carrara, Italy and supplied and installed by Petrillo Stone Corporation out of Mount Vernon, NY . Before being fabricated in Italy, the pieces were drafted and drawn by Petrillo's draftsmen at our Mount Vernon Offices.
At Petrillo Stone, we always adhere to the traditional approaches to stone masonry because that's the way it's done best. We use only the highest quality materials, which often means obtaining marble all the way from Italy.
Visit our About Us page to learn more about the way we do business.