Ralph Petrillo Visits New 9/11 Memorial in Greenwich, CT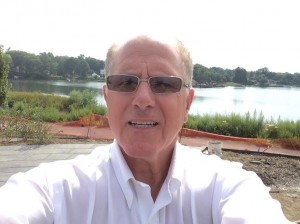 This week is the anniversary of the September 11 terrorist attacks, and is understandably an emotional time for people across our nation. This is the time of year where we stop to remember the lives lost in those tragic attacks, as well as come together in a show of patriotism. This was especially true when our very own Ralph Petrillo visited the construction site of the new September 11th Memorial in Greenwich, CT in Cos Cob Park.
On September 11, 2001, 32 people with ties to Greenwich, CT were killed. The names of these individuals have been incorporated into the memorial, making it a new place held close to the hearts of community members. Additionally, the new memorial is located in a secluded section of the park overlooking the Indian Harbor, providing a peaceful place for the families of victims to come and reflect. Charles Hilton Architects designed the two glass towers clad with American flags. In each of the flag stripes lays the name of a local victim. Additionally, compass points in the center of the plaza point to Washington DC, Manhattan's World Trade Center Site, and Shanksville PA.
Ralph was on location because Petrillo Stone Corp was supplying stone for the pavement beneath the glass towers. This stone was Cambrian Black Thermal Finished Granite, meant to mimic the look of the World Trade Center plaza. You can read more about this project and the memorial design on the Petrillo Stone Corp. blog or on the Memorial's official website. Below are some photos that Ralph Petrillo was able to capture during his visit. He encourages you all to stop by, as well.